CM ANNOUNCES ONE YEAR MATERNITY LEAVE FOR FEMALE TEACHERS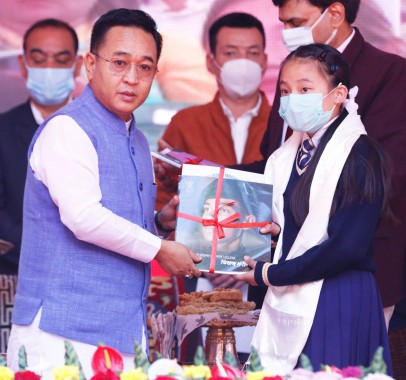 GANGTOK,: Chief Minister P.S. Golay on Sunday announced a maternity leave of one year for female teachers and extended the paternity leave to one month for male teachers of government schools.
During the maternity leave of the female teachers, one substitute teacher will be made available, said the Chief Minister while making the announcement during Children's Day celebration at Saramsa near Ranipool here.
Golay further announced Bolero vehicles for principals of four remote government schools for their transportation need in the initial stage. The four schools identified are Hee Gyathang SSS (north), Rolep SSS (east), Lingee SSS (south) and Khecheopalri SSS (west).
He also announced computer literacy to be initiated from primary school level for which computer instructors would be appointed.
On the occasion, the Chief Minister flagged-off 10 new buses for government colleges for the transportation requirement of the students.
Golay, in his address, informed that the Geyzing Degree College construction will be completed within one year's time along with an approach road.
"Our government's first priority is development of education. We want to provide the best facility to our students and we will not compromise on the development of education."
The Chief Minister shared that the Kanchenjunga State University Sikkim will be established at Temi Tarku, south district. The foundation stone will be laid soon by the Union Home minister, he added.
Our government has decided to develop one model school in each district and the selection of these schools has been done, said the Chief Minister. He directed that Teachers' Day and Children's Day will be celebrated at Saramsa or similar open spaces and not in closed auditoriums.
Golay maintained that the State government adopted innovative measures to address the internet issues faced by students during the Covid pandemic period. He highlighted the steps taken to have a separate BSNL telecom circle for Sikkim to boost internet connectivity in the hilly State. We are sure this initiative of the government will definitely help the students to avail uninterrupted internet services in the State, he said.
During the programme, the Chief Minister launched Private School Registration Portal, STET portal, NIPUN Bharat, Sikkim Chapter and AAGAZ (Covid-19 school readiness project).
One of the highlights of the programme was the presentation of Sulabh Sanitation Club, commendation/State Awards 2021 to teachers, mementos and cash awards to national awardee teachers 2021 and certification, cash prizes and mementos to CBSE toppers.
During the programme, Rashtriya Indian Military College (RIMC) prospectus was handed to students of Poklong-Kamrang constituency, along with retirement benefits to teachers.
Education minister Kunga Nima Lepcha in his brief speech emphasized on the relationship between teachers and students which should be friendly in nature. He highlighted the achievements and various schemes provided by the government during the pandemic.
The programme was also addressed by additional chief secretary, Education department, G.P. Upadhyaya.